This Group Purchase Program Has Ended
The deadline to apply for the Grow Solar Jefferson Waukesha group buy program has been extended to October 31! That's one more month for people to sign up for increased solar savings!
Ever wondered about solar for your home or business? Now is the time to check it out! There are two ways to learn more about the Grow Solar Jefferson Waukesha group buy program:
Attend one of the free, one-hour long educational sessions for members of the public, provided by the Grow Solar organization in conjunction with

Waukesha County Green Team, Heart of the City/Fort Atkinson, and Midwest Renewable Energy Association.




You can also sign up for a quick phone consultation by filling out the form on our Grow Solar page. In just 15 minutes you can know whether it's worth your time to dig deeper to get some specifics. An All Energy Solar expert will evaluate your solar potential and can arrange for you to receive a free, no obligation site assessment and quote.
The more properties that join the group buy, the more everyone can save as the volume rebate increases. Rebates could range from around $350 to around $1,400 for the average system size of 7kW, depending on participation.
The program is happy to announce that it has reached its second benchmark of 150kW triggering a $150 per kilowatt rebate for each property.
Grow Solar Jefferson/Waukesha is a group purchasing program for residential and other small-scale solar. Offered by the Heart of the City (HOC), the Waukesha County Green Team, the Midwest Renewable Energy Association (MREA), and All Energy Solar, homeowners throughout Jefferson and Waukesha Counties, WI may participate in this program to pool their buying power and secure significant discounts that make installing solar more affordable for your home or property.

This Group Purchase Program Has Ended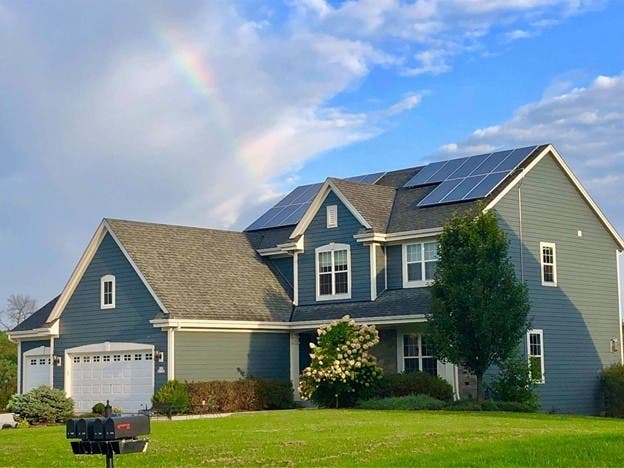 A recent article about the program was published at the Waukesha Patch. The benefits of solar power for the local community was discussed in Grow Solar Jefferson/Waukesha Strengthens Communities & Economy. Here are some excerpts:
"Jefferson and Waukesha County residents, farmers and businesses have an opportunity to 'own' their energy, and in the process, retain millions of dollars that would otherwise be spent on utility costs," said Frankie Fuller of Heart of the City, a Fort Atkinson-based nonprofit. "Solar power is an economic development engine that will retain energy dollars locally, helping to fuel wealth and prosperity right here at home."
"The economic benefit of solar mirrors the economic benefit of owning one's home," said Peter Murphy, Solar Program Director for the MREA. "With solar, you own the means of producing your electricity. Without solar, you're essentially renting your electricity."
"We're trying to simplify the process of going solar," said Murphy. "It can seem complicated, so we present clear information and answer folks' questions at our Solar Power Hours and then they can determine for themselves whether solar is right for them."
Read the rest of the article here.

This Group Purchase Program has ended.

Get updates about solar power solutions or learn more about All Energy Solar by subscribing to our blog, taking a look at our Solar Power Case Studies, Customer Testimonials, Residential Solar Project Gallery and Commercial Solar Project Gallery, then follow us on Facebook, Twitter and Linkedin.