Kenosha Area Solar Group Buy | Deadline 2021!
Save Extra with Blackbird Gen LLC & All Energy Solar
Blackbird Gen LLC and All Energy Solar are partnering to make solar more affordable for Kenosha area energy users!
Join now to take advantage of the benefits of tiered group purchasing, solar tax credits, and limited rebates. As more of local property owners sign up to have solar energy installed, bigger discounts get locked in for everybody.
Program Progress: Which tier are we at?

How Does Kenosha Area Solar Group Buy Work?
Climb Tiers as a Group to Earn Increased Solar Rebates
Solar contracts signed as a result of this program will be counted towards the Kenosha Area Solar Group Buy total. As more solar contracts are signed, all participants of the program will see their rebate check increase. At the end program, All Energy Solar provides a rebate check for all participants that reflects the total group effort.
Tier 1 - 0 - 24.99 kW signed up - Participants receive no rebate
Tier 2 - 25 - 49.99 kW - $0.02/W rebate
Tier 3 - 50 - 99.99 kW - $0.03/W rebate
Tier 4 - 100 - 199.99 kW - $0.06/W rebate
Tier 5 - 200+ kW - $0.10/W rebate
Every participant that makes the switch to solar with the Blackbird Gen team collectively reduces the cost of all the solar installations in the group buy to reflect the total effort. At the end program, All Energy Solar provides a rebate check to everyone who participated in the group purchase.
The more people who sign up, the more rebates everyone in the group will receive. If the group is able to achieve 25 to 49.99 kW, everyone in the group will receive a $0.02 per watt rebate. At 50 to 99.99 kW, the rebate is $0.03 per watt, and the incentives increase all the way until the group reaches 200 kW or more for a full $0.10 per watt rebate. For an average residence, that could save approximately $880 and much more for a business. For example, if a business installs a 40 kW solar array, this would be a $4,000 rebate.
How to Get Started
Sign up for a quick phone consultation by filling out the form on this page. In just 5 minutes you can know whether it's worth your time to dig deeper to get some specifics. An All Energy Solar expert will evaluate your solar potential and can arrange for you to receive a free, no obligation site assessment and quote.
Sites must:
Be located in Kenosha County or adjacent WI counties of Racine and Walworth OR be owned by a Carthage College current alum, graduate, or current employee and located in a state serviced by All Energy Solar (IA, MA, MN, NH, NY, WI),
Have sufficient solar exposure to participate (All Energy Solar will determine this for you after receiving your call or form submission above), and
Sign up to go solar with All Energy Solar between September 15th, 2021 and November 30, 2021.
You can also sign up for one of the webinars below.
The deadline to participate in this program is November 30, 2021, but other local incentives may go more quickly than this rebate, so don't delay. Here comes the sun!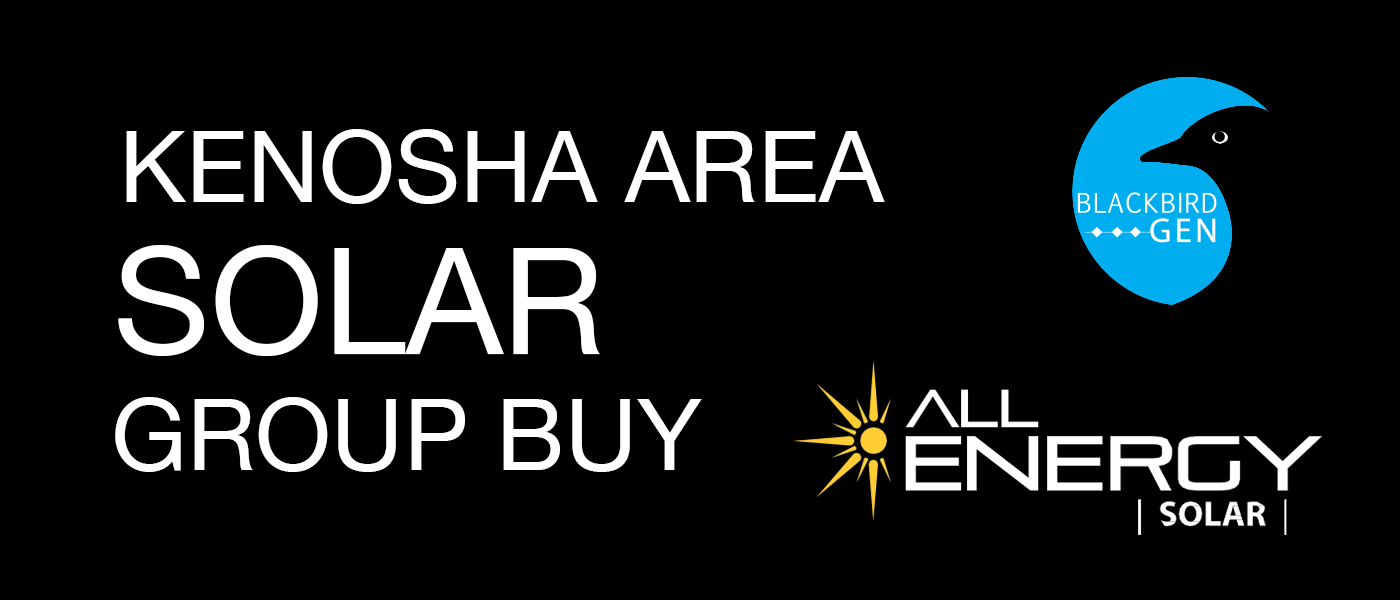 About the organizations offering this program
All Energy Solar, Madison, Wisconsin
All Energy Solar has been delivering solar energy to the Midwest since 2009 and we employ members of the local community. We provide a full-service solar energy integration experience for residential, commercial, agricultural, and government customers looking to make the transition to solar energy.
With group pricing provided by this program, the federal 26% tax credit, and rebates from local utility companies, you may never have a better chance to get affordable solar power! Need financing? A variety of payment options are now available, including monthly payment plans for solar installations.
Blackbird Gen LLC, Kenosha, Wisconsin
Blackbird Gen was born from an Enactus project started by Carthage College students Zach Gibson and Sophie Shulman earlier this year. Enactus is an international non-profit organization that empowers student entrepreneurs to create a better, more sustainable world. Through Enactus, students take skills learned in the classroom and apply them to real-world problems. Blackbird Gen was created with the goal to reduce carbon emissions in the community by 2030 and to make solar more visible throughout Kenosha and eastern Wisconsin.
Each solar proposal delivered as a result of a solar evaluation through the program will trigger All Energy Solar to donate $25 to Blackbird Gen LLC.
Every 5 kW of residential or commercial solar contracts signed as a result of the program will trigger All Energy Solar to make a donation of $300 to Blackbird Gen LLC.
If 200 kW Kenosha Area Group Buy Goal is accomplished, All Energy Solar will donate $10,000 to Blackbird Gen LLC!
To get started with a free consultation, complete the form on this page.