The Inflation Reduction Act (IRA) of 2022 may prove to be an economic game changer for Wisconsin. The new law will allow Wisconsin to accelerate its own goals of being carbon-free by 2050 and, in the process, create thousands of new, well-paying jobs across the state.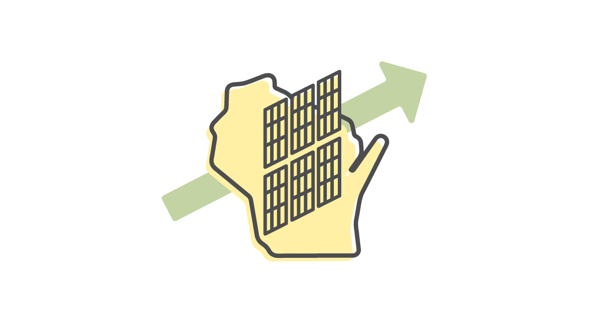 The perfect environment
Wisconsin is poised for massive growth in clean energy jobs. A strong workforce, good infrastructure, a wealth of natural resources, manufacturing expertise, and vital research and development capabilities between its universities and private industries all bode well for Wisconsin to see massive growth in jobs from clean energy.

A plan for success
The Climate Fast Forward event, held at the University of Wisconsin, Madison, in October 2022, brought together stakeholders from diverse backgrounds to help identify critical actions required to increase emission reductions while simultaneously creating thousands of well-paying jobs across the state. Topics covered included:
Large-scale clean energy projects
Wisconsin has several large-scale solar, wind, and advanced battery storage projects ready to be fast-tracked with increased dollars from IRA. These projects would boost the need for a wide range of industry and trade jobs across the state.
Developing affordable community solar
Community solar projects present a significant opportunity for small businesses, municipalities, educational institutions, nonprofit organizations, and community organizations to boost local and state economies.
Infrastructure Upgrades
The success of the state's carbon-free energy plan will depend heavily on smart grid technology and infrastructure upgrades which can help reduce land use conflicts and the environmental impact of traditional powerlines. These long-overdue infrastructure upgrades will require a wide range of skilled labor to implement, helping to stimulate both local and state economies.
Green job training
Expanding Wisconsin's trade-specific, green job training and apprenticeship programs will result in a new generation of well-paid, skilled labor formed from the growing clean energy sector.
Research and business development
Wisconsin has sought to attract research and manufacturing companies specializing in green technology. Additionally, researchers at the University of Wisconsin are focused on improving existing solar technologies, developing new technical and material innovations, and finding ways to decrease installation costs to make solar more affordable. This statewide research and business development approach will help create new jobs to attract and retain Wisconsin's top talent.
Electric vehicle corridor
Wisconsin is set to receive nearly $79 million over the next five years to expand electric vehicle charging stations. Wisconsin's Electric Vehicle Infrastructure Plan will promote long-distance travel in electric vehicles by placing approximately 60 fast-charging stations across a 50-mile radius of Wisconsin's designated Alternative Fuel Corridors giving Wisconsin a competitive, marketable advantage.
An action plan for agricultural
Wisconsin has a chance to invest a significant portion of its nearly $30 billion in Inflation Reduction Act funds in agricultural programs designed to promote conservation and sustainability practices that reduce carbon emissions while benefiting farmers and
their communities.
If you're interested in being a part of Wisconsin's economic and job boom by investing in environmentally friendly, clean, renewable solar energy, contact an All Energy Solar representative.