Introducing a new seasonal solar energy webinar series for Massachusetts, New Hampshire, Wisconsin, and Minnesota. Starting January 26th, and over the next few months, you have the chance to attend a virtual event to learn more about renewed solar incentives for 2023 and why you should act soon to switch to solar power.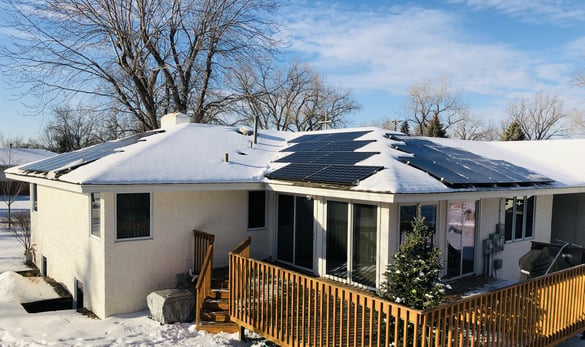 It's a New Year, and that means solar incentives have been renewed! Many local utility companies offer incentives when their customers install solar panel systems. With an increased number of people going solar, the electrical grid can get congested in some areas. This results in utilities possibly setting limits on how many people can switch to solar in a neighborhood.
Learn more in our webinar about how you could make Make 2023 Your Year in the Sun: Secure Your Solar Spot on the Grid!
Free and open to the public, anyone can attend this Webinar Series, whether you're interested in solar energy for residential, commercial, agricultural, or other types of property.
During these 1-hour events, a solar energy expert will share what incentives might be available in your area and what local utilities have done to restrict the spread of solar. We'll also talk about why waiting too long to secure your spot on the grid could be a mistake.
Topics to be presented include:
Basics of a solar photovoltaic (PV) system

What is grid congestion, and how it impacts solar adoption

Step-by-step process to determine if solar is right for a property

High-level information about incentives where you live

Economic benefits and financing options

Q&A
The same information will be presented on each date, so please only register for one event. A new topic will be introduced for the Spring Webinar series that starts in April 2023!
Minnesota Solar Webinars
Thursday, January 26 at 12:00 PM

[ENDED]

Tuesday, February 28 at 7:00 PM [ENDED]
Massachusetts Webinar
Tuesday, February 7 at 7:00 PM [ENDED]
Thursday, March 16 at 12:00 PM [ENDED]
New Hampshire Webinar
Thursday, February 16 at 07:00 PM [ENDED]
Wisconsin Solar Webinars
Tuesday, January 31 at 07:00 PM [ENDED]
Thursday, March 9 at 12:00 PM [ENDED]
Don't see your state listed here?
Sign up for the webinar in the state closest to where you live.
If you see your state, but you can't attend any of the dates:
Please
fill out our quote form
and you'll get a personalized, in-depth evaluation at a time of your choosing. Please note that recordings of these webinars will not be available after the sessions have ended. To receive the information, you must attend during the time indicated. You can also
contact us
or
subscribe to our blog
to get updates about future webinars.