Need your roof replaced? We've got you covered. All Energy Solar offers roofing services and solar panel removal and reinstall to our residential customers within 80 miles of our St. Paul office.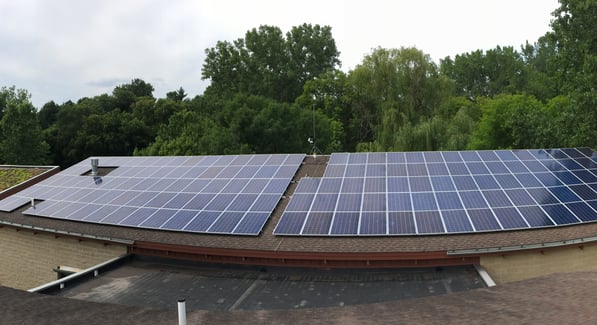 While solar panels can help to protect your roof from wear and tear, there still can come a time when a roof needs to be replaced. If you are in need of a new roof due to storm damage or age, we are here to help by offering solar panel removal, roof replacement, and solar installations done by our professionals.
Having your roof redone can be a bothersome task, so we want to make the process as simple as possible. Having one less contractor to work with, means one less thing to think about when getting your roof done. And if your roof replacement is part of a claim, we can help work with you and your insurance.

What happens to any of the damaged or outdated solar panels and other components? All Energy Solar has a recycling program to ensure that as much of the materials as possible can be remade into something else.
We've been working on roofs in Minnesota since 2009! We're experienced solar panel installers, so we know the best practices for properly removing and reinstalling solar panel systems. Our background and knowledge will help to keep your All Energy Solar system warranties intact during this process.
If you are in need of a roof replacement at your home and want to make sure your solar panels are properly taken care of, or you want more information on solar + roofing, contact an All Energy Solar representative. They can help get you a free quote for the project.
To learn more about All Energy Solar's offerings, view our website to access helpful resources such as blog posts, infographics, videos, and more. And follow us on Twitter, Facebook, Instagram, and LinkedIn so you can stay updated about solar energy news in Minnesota.