Solar is alive and well in Massachusetts! One of the biggest incentives to go solar in MA is the Solar Renewable Energy Credits (SRECs), and we're here to give you an explanation on how these credits work and how you can take advantage of them. The state's SREC program has proven itself to be stable, and is yet another reason to invest in solar!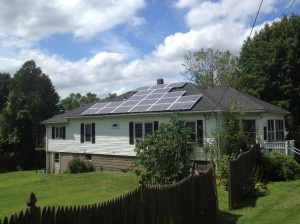 An SREC is a Performance Based Incentive (PBI), and rewards property owners for investing in high performing, reliable green energy production. SRECs acknowledge the property owner's efficient generation of solar energy--they don't actually purchase anything tangible--they purchase appreciation of the environment. For every 1000 kwh your solar array produces, you earn an SREC. The better your solar system performs, the more SRECs you earn. The incentive encourages people considering investing in solar to find the best installers who will be able to create a top-quality, smart design for your solar system that will last for years to come.
Utility suppliers as well must demonstrate their support of the environment by meeting a set Renewable Portfolio Standard (RPS). They can do this either by producing their own clean energy, or purchasing SRECs from property owners like you -- this is why they're so valuable!
At All Energy Solar, we provide a few simple options for you to sell your SRECs. With solar power, you can sell the excess of energy that your solar array produces back to the utility grid, and you're also rewarded with SRECs simply for contributing to the renewable energy sector.
Contact us today to learn if your home qualifies for this and other incentives to go solar!