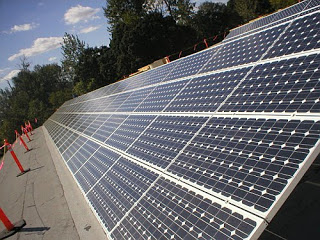 Racing relies on tens of thousands of gallons of fuel each year to power cars, but when Pocono Raceway flipped the switch on its 25-acre solar farm last week for the Pennsylvania 500, a NASCAR track became the world's largest solar-powered sports facility.
"Hopefully we can be the catalyst for something big in American sports," said track president Brandon Igdalsky. "We can show this is the right way to do it, and is a good thing to do."
Sports teams have been pursuing more environmental initiatives in recent years as "going green" becomes a marketing catchphrase -- and a way to save on utility bills.
"Sports have a tremendous opportunity to create both action on the ground with environmental footprint changes ... and a real opportunity to help educate people on renewable energy options," said Darby Hoover, a San Francisco-based senior resource specialist with the National Resources Defense Council. The environmental group advises Major League Baseball, the NFL, the NHL, the NBA and MLS.
While NRDC does not advise NASCAR, Hoover praised Pocono's solar installation "as a way where fans can see genuine effort by the league." She commended sports leagues in general for efforts in promoting environmentally friendly messages.
The Staples Center in Los Angeles, home to the NHL's Kings and the NBA's Lakers and Clippers, has more than 1,700 solar panels on its roof in a system expected to provide environmental offsets over the next 25 years.
In baseball, the Rockies, Indians, Red Sox and Giants use solar power in some capacity at their stadiums. The Giants' AT&T Park in San Francisco this year became the first major league park to receive a Leadership in Energy and Environmental Design, or LEED, silver certification from the U.S. Green Council.
In each case, teams have taken the initiative, without league mandates -- though most sports leagues now also have green programs promoting or encouraging recycling, alternative energy or other environmentally friendly ideas.
"We understand each club has its own challenges," said Sarah Leer, a spokeswoman for Major League Baseball. "We sort of realize each club is going to have different abilities in as much of what they can do."
That includes money -- small-market teams struggling to keep payroll, for instance, may be less apt to invest in solar power. Pocono's installation cost about $16 million.
Other teams may be constrained from installing panels because of stadium geography or construction.
That wasn't an issue at Pocono Raceway, where track owners installed its solar farm on a converted parking lot across the street from the 2.5-mile tri-oval track. The 40,000 solar panels are arranged in groups in parallel rows, barely visible beyond fencing and a tree line from a road next to the track.
After Pocono's 3 megawatt system, the next-biggest solar installation at a stadium is the 1.4 megawatt roof at Kaohsiung Stadium in Taiwan, according to Seth Masia, deputy editor of Solar Today, the magazine of the American Solar Energy Society.
By comparison, AT&T Park has a smaller, 120-kilowatt array, and Coors Field has a 10-kilowatt system, enough to run the scoreboard, Masia said.
NASCAR says the Pocono project is so big it's visible from space.
Saving money was the initial reason behind the installation, Igdalsky said. Price caps will soon be lifted on electric rates in Pennsylvania, and bills are expected to skyrocket. Windmills had been ruled out because of a lack of sustained winds in the area and the presence nearby of eagle and osprey nests.
The installation went partially online in time for Sunday's race, won by Greg Biffle, and was expected to be completed within the week. When finished, it would provide enough energy to power the track along with 1,000 homes. The track would save between $300,000 and $500,000 in electrical costs each year, Igdalsky said.
NASCAR hopes other tracks -- and fans -- take notice. Mike Lynch, head of NASCAR's Green Innovation program, realizes there is a perception among some in the public that the racing series is not environmentally friendly because of its reliance on fuel.
NASCAR says roughly 135,000 gallons of fuel are used per Sprint Cup season. That pales in comparison to a U.S. government estimate that American motorists consume nearly 9 million barrels per day of gasoline.
"It strikes a lot of people as surprising since our sport is [seen as] the stereotypical fuel-burning sport. ... It's really not," driver Brian Vickers said in a phone interview about the environmental initiatives. He's known as one of the Sprint Cup series' strongest environmental advocates.
"Most important is that yes, NASCAR is going to do a lot more ... such as what Pocono is doing on the solar farm, but a lot of times people forget what they've already done," Vickers said.
NASCAR touts that it's had green practices in place for years, some for two decades, including shredding and recycling used tires; capturing and recycling oils, fluids and batteries; and planting 10 trees for every Sprint Cup series race. NASCAR says such plantings mitigate 100 percent of the carbon produced from the race cars.
Instead of promoting goals, Lynch said the focus is showing fans results.
"One thing about a NASCAR fan at its very core is being genuine is absolutely critical to them. It has to be real," Lynch said. "Symbolism is great. But real results, real projects ... that's what our fans are looking for."