Warm weather inspires many people to look at ways to make their homes more comfortable and attractive. If sunny days bring you outdoors to improve your landscaping and home exterior, you aren't alone. In fact, home improvement stores see a dramatic increase in customers during the pleasant spring months.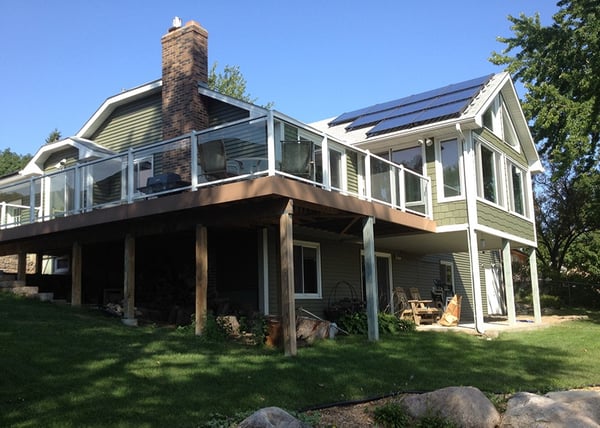 Solar panels are a great addition to the exterior of any home. Not only do they provide a cost savings on the home's electricity bill each month, they also increase the value of the home while sending a message to the community that the family that lives there believes in doing its part to help the environment.
Before you begin this spring's round of improvements on your home, consider these benefits to going solar.
Custom Design
One of the best things about going solar is that you'll have a personal consultant working with you every step of the way. When you choose a reliable solar installation service like All Energy Solar, we'll not only ensure you have the best panels for your unique home, but we'll also help pinpoint the tax rebates and discounts available to you depending on your location and situation.
Check out our residential solar installation gallery for some examples of how our work looks. While cost savings and environmental impact are important, the curb appeal of your home is important as well, so it's important to make sure your panels blend attractively with the design of your home.
After speaking with a solar installation provider, many consumers are surprised at how affordable the transition actually is. With so many rebates available, the cost of installation is often much lower than what customers expect, and that savings is combined with energy credits and utility bill savings.
Over a few months, homeowners often find out that the switch to solar benefited both the environment and their own family budget in equal measure.
A Trusted Provider
When choosing a company to conduct the installation, it's important to find a trusted provider like All Energy Solar. A company that has a strong presence in your area will be familiar with the many local programs that impact you, as well as the laws that apply to your region. You'll also be assured of a speedy response if an issue should ever arise.
At All Energy Solar, we love our communities! Our offices are located in Saint Paul, MN and Amherst, MA, and we service Minnesota, Massachusetts, Iowa, and Wisconsin.
As you look to improve your home, consider going solar. You'll reap rewards from the installation every time the sun shines!