Have you been noticing the solar panels springing up on neighborhood roofs lately? As with all construction projects, when the weather warms up, it's time to break ground; and for an increasing number of homes and businesses, that includes using the sun as a money-saving energy source. (And just as important, owning the means of generating that electricity!) All Energy Solar is having a busy spring helping local commercial and residential properties make the switch to renewable, dependable solar energy.
Solar is a hot trend in all of the area we service, including Minnesota—renewable energy has moved into second place as a source of electricity generation, nudging out nuclear power, and solar jobs increased by nearly 50 percent in 2017 (the second-highest rate in the country, after California). Our solar industry now employs more than 4,000 workers.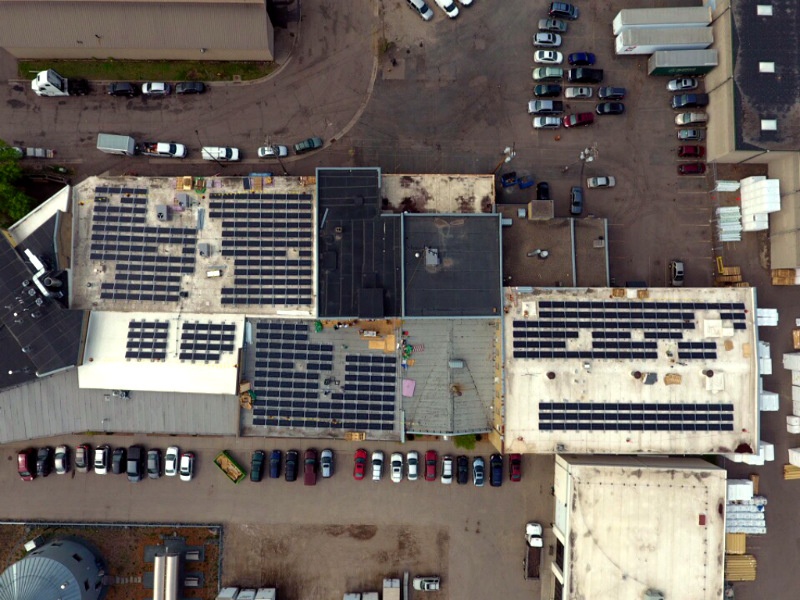 A great example of a recent All Energy commercial solar project is locally owned Deneen Pottery, which is having panels installed across its Saint Paul Midway facility, and will undergo an electrical service upgrade with Xcel Energy. Deneen is a second-generation family business that employs more than 85 craftspeople in St Paul, making stoneware mugs and crockery. The company has been around since the '70s, when pictures of new active solar houses shared space on the front page of newspapers with headlines about the energy crisis.
In 2015 Deneen bought the building it had been leasing for years, and solar was a big wish list item, since it uses 14 electric kilns. That takes a lot of energy! Deneen is installing 400 rooftop panels for a system capacity of 137kW. Its skilled workforce of craftspeople makes the pottery by hand, and now the sun will provide about half the energy for turning those clay creations into stoneware. If solar seems futuristic and space age to some, the idea of it powering the ancient art of pottery is a good indicator of how mainstream it's becoming.