https://www.youtube.com/watch?v=WejA8tsM8xw
Haverkamp Properties and All Energy Solar have begun the largest multi-tenant solar panel installation project in the Midwest. Shining solar panels sprawl across the roofs of CEO Brent Haverkamp's housing property, sending a bright message that solar energy is a feasible power source for large amounts of energy consumption.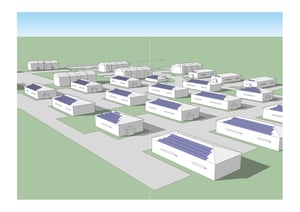 The property's solar powered complex will house students at Kirkwood Community College and represent their future—a future that runs on sustainable energy. As the price of electricity and fossil fuels continue to rise, business and property owners look toward solar energy to take advantage of the tremendous and practical opportunities in renewable energy.
The Kirkwood installation project in Cedar Rapids exemplifies a modern approach to construction that incorporates the most sustainable options available. All Energy Solar's CEO Michael Allen insists "If you own a business, a rental property, a farm, or any building, you owe it to yourself to critically consider looking into solar energy." Investors in the environment like Haverkamp share the desire to save money on energy bills in the future, but also their dedication to the environment takes a great, admirable leap toward constructing a future run by renewable energy.