The solar energy industry is booming across the United States, with record growth in solar production reaching an all-time high in 2020, as more home and business owners are recognizing the financial benefits of going solar. As good as solar is for businesses and individuals, it's also pretty good for the nation as a whole.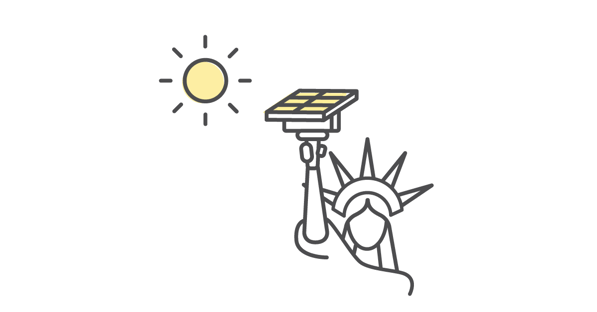 The solar job machine
Although solar experienced a slight setback in jobs during the 2020 global pandemic, the U.S. solar industry is on pace to reach 400,000 solar jobs by 2030. Jobs in the solar industry include installation and development, manufacturing, sales and distribution, operation and maintenance, and a smattering of various other positions. What makes solar so great for the nation is that installation and development jobs make up about 67 percent of the total solar workforce. Because installation jobs are primarily localized positions, they present an opportunity to infuse record levels of job growth and economic stimulus into almost every region of the country.
Good work, good pay
While many people have been clamoring for a renewal of American manufacturing, the solar industry has quietly responded by offering competitive pay that is typically at or above the wages paid to U.S. workers in similar occupations and industries. Additionally, the growing demand for semi-skilled and skilled labor has resulted in a better representation of America's working age population with a more diverse workforce than ever before. Since 2015, solar industry employment has increased by 39 percent for women, 92% for Hispanic or Latino workers, 18 percent for Asian workers, 73 percent for Black or African American workers, and 19 percent for veterans—helping make your move to solar good for all Americans.
Energy independence
Solar energy presents an incredible opportunity as an almost limitless clean energy source to help the United States become less reliant on fossil fuels provided by other countries. In 2020, the U.S. reached a new milestone in solar energy production with more than 100 gigawatts (GW) of solar capacity installed nationwide, enough to power 18.6 million homes and significantly offset our dependence on foreign nations to help meet our energy needs.
To learn more about how you can make the very patriotic move to clean, readily available, renewable energy, contact an All Energy Solar representative.