A typical 50,000-square-foot grocery store can spend $250,000 annually on electricity, and unless they run on renewable energy, that results in about 1,900 tons of CO2 emitting into the atmosphere, the carbon equivalent to running 360 vehicles for one year!
A smaller 2,000-square-foot neighborhood convenience store spends between $8,000 to $12,000 on energy yearly, contributing to more than 90 tons of CO2 yearly.
Those are business expenses and environmental costs that never go away, because many of the foods that humans rely on day-to-day need to be kept cold, like eggs, milk, meat and more. In fact, depending on the size and location of the store, refrigeration and freezing can account for 40 percent to 80 percent of energy consumption.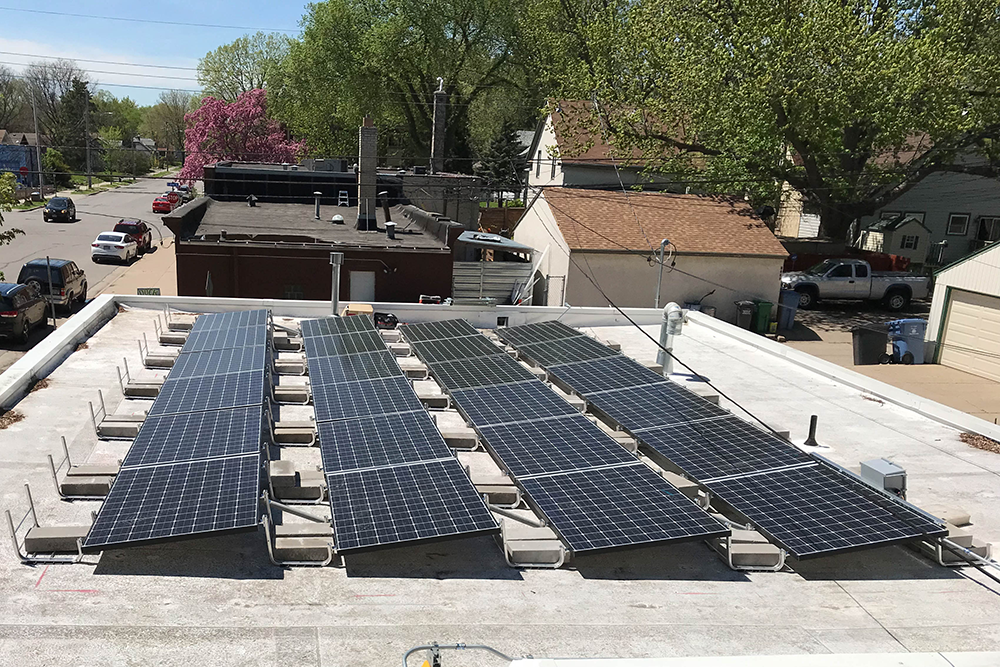 That's why food retailers, from big supermarket chains to tiny local corner stores, are not only the perfect candidates for solar power to reduce costs and emissions, many groups are interested in helping those stores do exactly that. Here are some of the options to pay for solar power installations for grocery and convenience stores.
Loans & Financing for Solar
Secured loans - These solar loans use an asset, typically the property, as collateral.
Unsecured loans - These loans are secured against the solar panels, not the property, and carry higher interest rates.
In-House loan through solar installer - Although not widely offered, these loans come directly from a solar installer offer the customer a single contact during installation, providing a seamless process.
PACE loans - PACE loans, primarily aimed at businesses in most states*, attach the financing assessment to the property rather than the owner, leading to financing options available at lower rates.
Federal Tax Incentives
26% Investment Tax Credit Incentive for 2020 for commercial projects that meet certain requirements by December 31, 2020.
22% Investment Tax Credit incentive for 2021 commercial (and residential) projects.
10% Investment Tax Credit incentive for 2022 applies only to commercial projects.
Other Federal Grants, Loans & Programs
Most states have some sort of renewable energy program
Grants, Loans & Financial Incentives at the state level
Sales Tax Exemptions
Property Tax Exemptions or Reductions
Some local county and city governments offer renewable energy programs
Grants, Loans & Financial Incentives at the city or county level
Sales Tax Exemptions
Property Tax Exemptions or Reductions
Federal Equipment Depreciation Tax Deduction
Recent changes in the tax code adjusted how solar can depreciate on the federal level. With the change, businesses can now potentially depreciate up to 100 percent of the cost basis in the first year. This 100 percent bonus depreciation allows businesses to accelerate federal tax benefits to help offset installation costs. Each tax situation is unique, however, and a tax professional should be consulted for more precise depreciation figures on an individual business's solar project.
Utilities & Net Metering
Many utilities have programs to encourage solar power projects. When businesses that consume as much energy as a grocery store installs solar panels, it helps to relieve electric load in the grid. If a solar installation is large and effective enough, not only could it power the grocery store, but it could "sell" electricity back into the grid. This pays the grocery store's future power needs from the grid, while also helping to improve the variety of local energy sources.
Although the federal, state and local governments, as well as local utilities may offer a rebate or incentive program, these funds do have limits. Typically, funds are set aside by a utility on an annual basis and are reviewed and changed accordingly. Factors such as state legislation, market demand, program participation, and program lifecycle can impact how much is available from a utility on an annual basis.
Time and money are running out on additional funds that can make solar power more affordable. Get a better understanding of what financial incentives are available and how your grocery business can take advantage of them by contacting AllEnergySolar.com.
Want to get updates like this or learn more about All Energy Solar? Take a look at our Solar Power Case Studies, Customer Testimonials, Residential Solar Project Gallery and Commercial Solar Project Gallery, then follow us on Facebook, Twitter and Linkedin.