Solar solutions have long been seen as a large-scale source of energy, accessible only to the big-name corporations. But the shift is coming; solar is becoming more affordable and more widespread.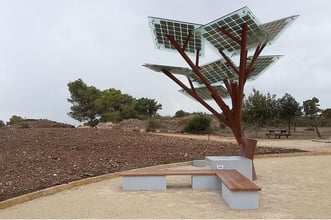 This past weekend, a nature park in Israel took small-scale solar to another level. Ramat HaNadiv is adding to their abundance of oak, willow, and pinetrees with "solar trees" that bring electricity, WiFi, and chilled drinking water to nature. The idea is to allow those who feel cooped up to bring their work outdoors. Each seven-panel tree generates 1.4 kW, so they're not intended for large-scale power generation, but it's enough to power more than 30 laptops.
The developers of these trees see them as a solution for the future. As cities make their transitions towards renewable energy, we may very well see these trees lining urban streets in generations to come. They could also be a power source in secluded areas that are not plugged into the grid. Since they run on their own power, solutions like this could be brought to rural or impoverished communities to solve problems like water filtration.
No matter the size or location of the community, sustainable energy solutions can be found. Ramat HaNadiv found a way to bring renewable energy to their park, and All Energy Solar can work with you to do the same. Whether you're a small residence or a large company, whether you need a small solar tree or panels added to your existing structure, All Energy Solar will find a way to integrate solar energy into your life. Get started with solar and visit www.allenergysolar.com for a free quote today.