Nerves were on alert as the 2023 Solar Games began at the Intersolar North America and Energy Storage North America (ISNA/ESNA) conference in Long Beach, California. Among the eight teams competing February 14-16 was a group from All Energy Solar, the only Midwest-based solar company at the event. Despite it being All Energy Solar's competitive debut, they placed third overall in the games.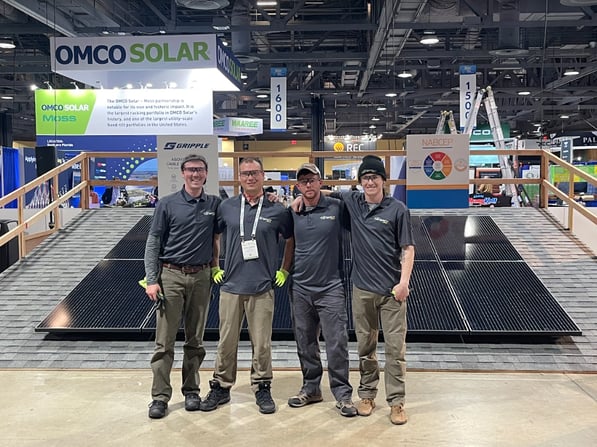 "We were excited to showcase our team's talents to the rest of the industry and the country. We are proud of our showing, especially knowing more than 30 teams applied to be in the Solar Games," said All Energy Solar's CEO, Michael Allen. "Our focus on high-quality work paid off to get us there, and placing in the top three further proves why our installations are superior — because we strive to be the best."
As first-timers to the event, this was a learning experience for the company. The team was in the dark about the installation requirements until the morning of the competition. There was little time to discuss a plan and prepare for the day's task, a standard practice on a job site. While some competitors' teams comprised of crews that installed together all the time, All Energy Solar had a combined team from different states: electrician Sean Lidbert, installers Kevin Dustrude and Thaber Peterson hail from Minnesota, and Kyle Phillips from Massachusetts.
"We didn't communicate the same, but it was inspiring to work with such outstanding people and see how, company-wide, we all have the same excellent standards for our craft," noted Lidberg when asked about highlights of his experience.
The teams were graded on quality and safety, with speed acting as a tiebreaker when needed. The first round was to be completed in 90 minutes, and in round two, they had just 75 minutes to finish their work.
This timing made things complicated for a crew striving for precision and excellence. Solar installations need to be functional and long-lasting. That means taking extra consideration to lay level panels, correctly torque bolts, and properly protect wires to ensure the longevity and reliability of the system. There was no room for even a minor delay.
While the team included the company's best solar installers with years of experience, it was very different from the day-to-day job. "You get the occasional customer who sits outside and watches, but this was next level. Bleachers with people, announcers calling play-by-plays, and judges walking the floor observing the installers work. Stressful, even for professionals," said David Getschel, Director of Electrical Operations.
Despite the unusual environment, timing limitations, and lack of familiarity working together, the All Energy Solar team defaulted to flawless client-focused installations for third place. "We hope to have the chance to place first in 2024," said Allen.
About All Energy Solar
All Energy Solar provides a full-service solar energy integration experience for residential, commercial, agricultural, and government customers seeking to transition to solar energy. www.allenergysolar.com.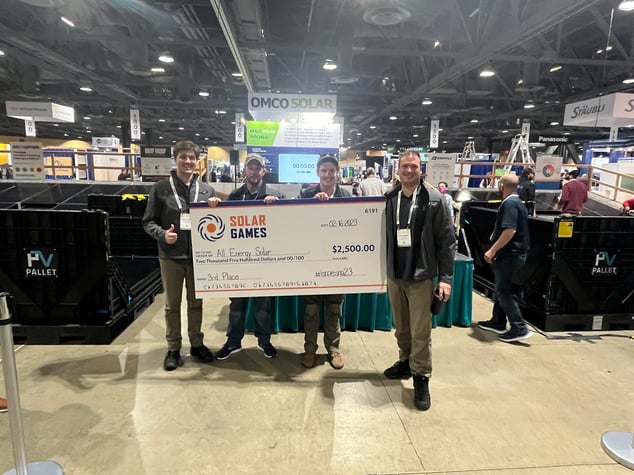 You could have a bright(er) future ahead of you!
Are you considering a career in the renewable energy industry, whether installing, designing, project managing, sales, or another role? All Energy Solar could help make a difference in your future plans.
Discover a variety of solar career opportunities: https://www.allenergysolar.com/careers/
Learn more about All Energy Solar: https://www.allenergysolar.com/our-company/
Want to get more Minnesota solar power updates like this or learn about All Energy Solar solutions and services? Subscribe to our blog, then take a look at our Solar Power Case Studies, Customer Testimonials, Residential Solar Project Gallery and Commercial Solar Project Gallery, then follow us on Facebook, Twitter, YouTube, and Linkedin.